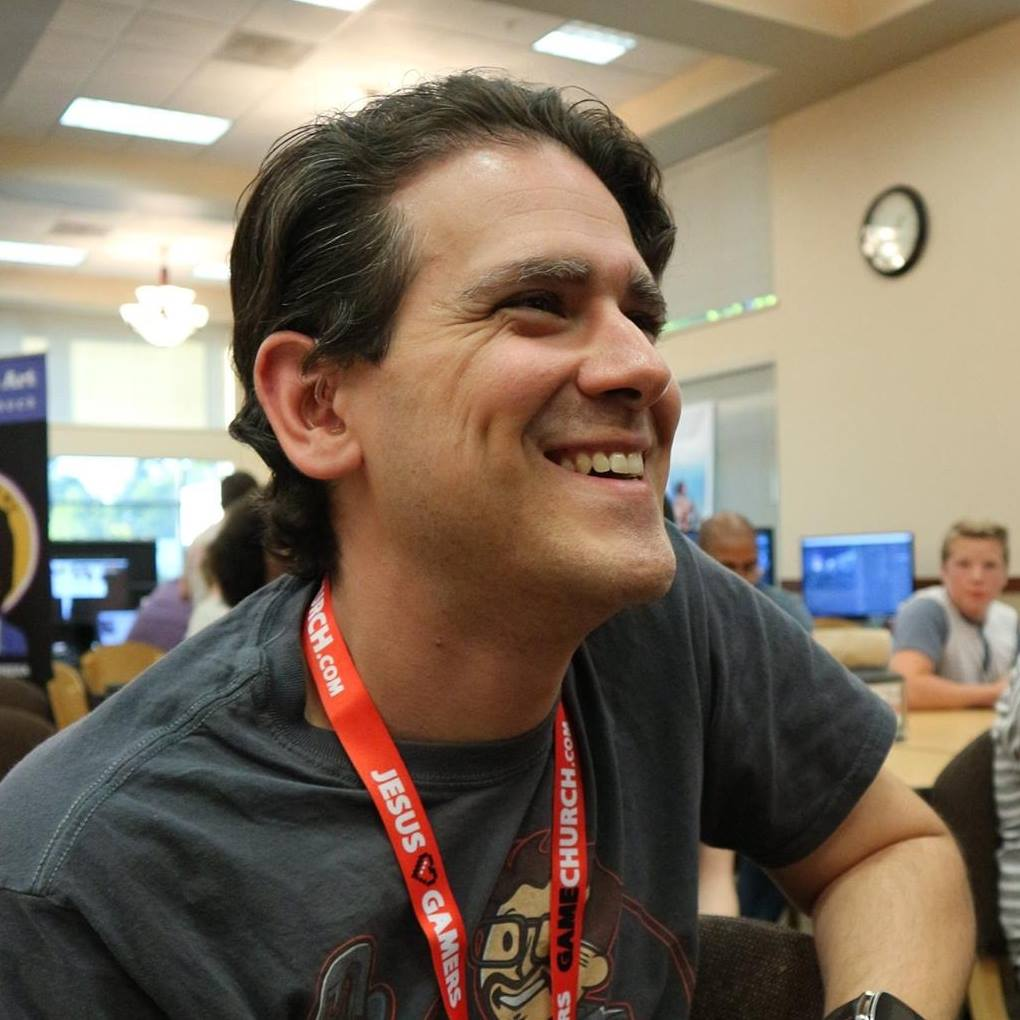 Can you tell me a little about yourself?
My name is Matt Colón, and I am an engineering manager at Adobe in the California Bay Area. I've been married for almost 14 years to my wonderful wife, Katie, and am a proud dad of our three kids. Since I was young I have enjoyed artwork, starting with drawing something that vaguely looks like Mario as a pre-schooler and later illustrating four web comics in college and beyond. Music also was a core part of me growing up, playing violin starting at age 6 and adding piano and guitar later in life.
I had wanted to be a game developer even at an early age, so when I attended Cal Poly, San Luis Obispo for college, I enrolled in any class that could apply to game development, such as courses on computer graphics and artificial intelligence. It was there at college that I felt a calling from God towards game development. All was well until we had game developers from the AAA industry come to talk about their experiences, at which point I learned about the horrible impact of crunch on the lives of developers and their families. This derailed my desire to join the AAA industry out of college, and it wasn't until Minecraft came along years later that I realized the viability of individuals or small teams releasing games digitally that I realized my calling could be fulfilled in the indie game industry instead.
What has been your proudest experience in the gaming industry?
While I would use "game industry" loosely, it was the release of my first game, Dark OmniChess, a web-based variant of chess where you can only see your pieces and where they can move while the rest of the board is covered in darkness, like fog of war from other strategy games. Until then, I had only been able to tell others about how God was calling me towards game development and that some day I would see it realized. It wasn't until I joined a small group as part of the Christian Game Developers Conference that I had the encouragement, support, and accountability of others going through similar game development journeys that gave me the motivation and passion to see this project to its end.
Now, I'm on the other side of a game. It's done. From what I've learned through wisdom and experience, the act of creating produces rejuvenation, but the act of shipping produces growth. These experiences and disciplines I've learned through the entire process have shaped me to be a better game developer.
What I also had learned is that I have been being molded by God in preparation for this journey. Before this, I felt that slight bit of shame of having received my calling from God towards developing video games in college and then spending over a decade not living out my calling (of course, several of my life experiences have required my full presence and focus in order to be the man, husband, and father I needed to be, but there were opportunities for me to choose this calling earlier and in their midst). However, I came to realize that God has put me in positions where I have learned the ins and outs of building software; I had opportunities to learn the software development cycle and Agile process, drive the execution of processes and releases as part of a large team, kindle a passion for design, as well as gain the staple technical depth and knowledge needed to create enterprise-level software. With over a decade of enterprise software experience, I realized that I could step into a daunting task like development a game on my own and say, "alright, this is what we're going to do."
What is your favorite game?
The Elder Scrolls III: Morrowind. What made the adventure so meaningful for me was that I was immersed in a fantasy world that was bigger than I could ever fully experience; every cave, ruin, and village had a personal story, every item was hand-placed by a game developer for a reason, and the map was so large that I could not investigate every nook and cranny even in my 1,000 hour play-through. This made the world feel so real and exciting to explore because there were no boundaries that I could feasibly reach; even the true game boundaries were endless oceans rather than invisible walls. The lack of prolific fast-travel mechanisms meant that you spent a lot of time in the wilderness of Morrowind, discovering its hidden passages, many diversions, and unexpected dangers.
Why did you decide to join Games For Love?
In 2019, I had been working on a personal The Legend of Zelda fan game project that had become more of a vertical slice prototype of a type of game I'd like to make. However, my vision for it was beyond the scope of the time I would like to commit to it and with it being a fan game using assets from another IP it meant I definitely could not market it. This left me wondering what my next steps should be.
I met Nathan Blair at the Christian Game Developers Conference a few years back and kept in touch over the years. Recently, he reached out to me about this opportunity to be a part of Channel Surfing+, which happened to come around this turning point in my previous project. After we discussed the volunteering details and I saw the opportunity to continue developing 2D games as part of this project, it made sense to bring all the workflows and technologies I learned working on that vertical slice towards bringing new games to life in the VR arcade channel. That way I could continue to hone my craft while also gleaning knowledge and experience working in a team with people from various disciplines and levels of experience.
Share your experiences volunteering with Games For Love.
It's been a pleasure working with a small team on a VR arcade channel for the upcoming Channel Surfing+ game where each of us have our own strengths to bring. I have a background in 2D game development, so I thought at first I would be of little help for a VR game in 3D space, but the VR arcade was a perfect fit where I could create new 2D games for the arcade machines that the player can engage with using VR controls. It's encouraging to watch the progress being made on all fronts in this channel and in the full team as well, and it gives me good motivation to bring some new things to show off for each team meeting.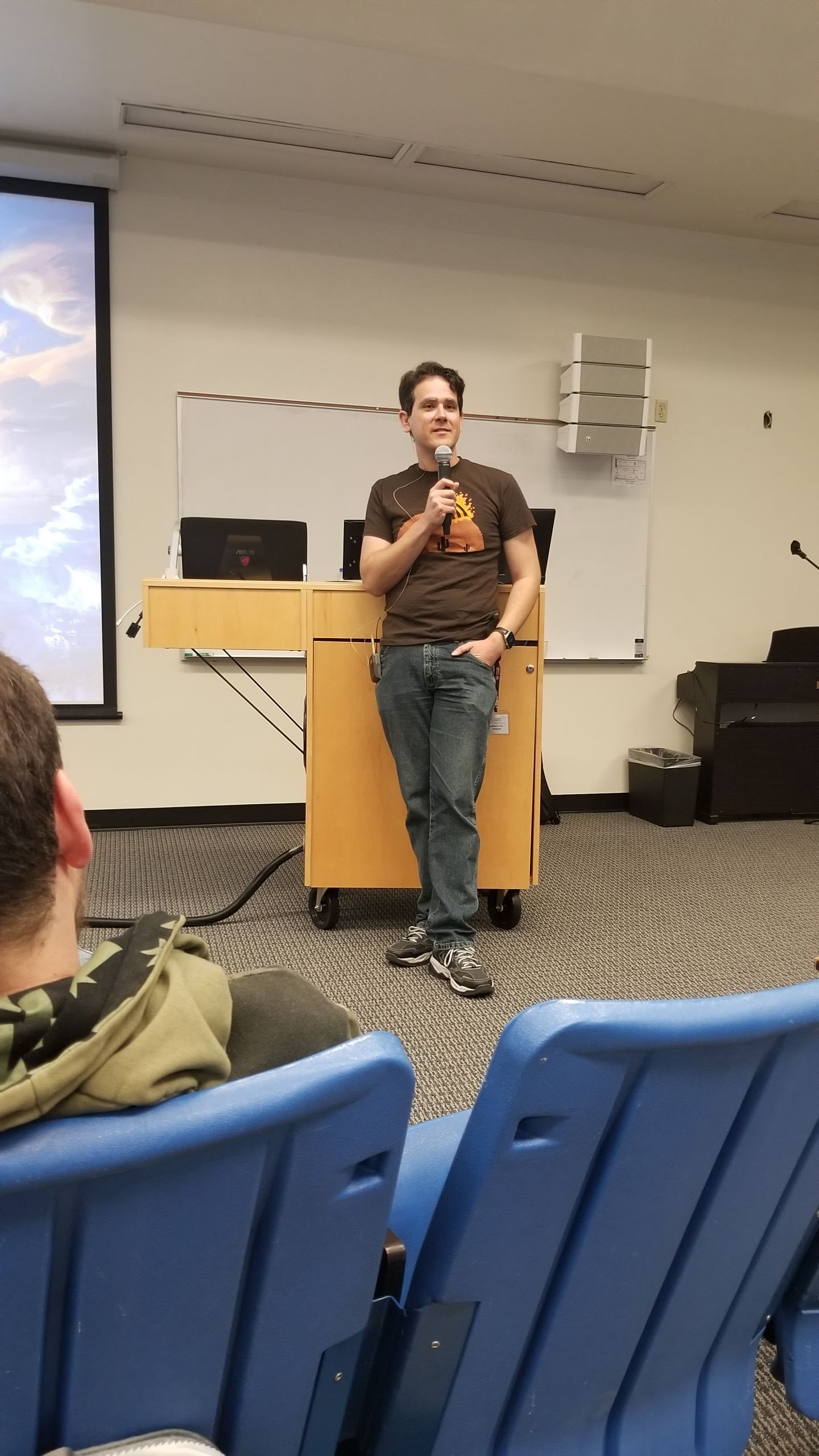 Where do you see Games For Love growing in the next year?
Just as game sales create a long tail of revenue that stack as more games are released, I imagine Games For Love will see a long tail of volunteers as more projects are completed that will enable the organization to scale in the number, size, and quality of projects it can do. Specifically with Channel Surfing+, I've seen it grow quickly in the number of volunteers involved, so with a successful launch of that game I would expect a good number of those volunteers to want to be involved in upcoming projects, and its success will show others that this volunteer-based development model works and inspire new people to join in on developing the next game. As that volunteer base grows, that will set up GFL to be able to increase its impact in the lives of children across the world.
What did you want to be when you grew up?
In truth, a game developer. I started playing video games as many a young child did, originally on Apple IIc, then the Colecovision system, then working my way up to the staple console systems, such as the NES, SNES, and Gameboy. While I enjoyed the games I played, I always had hypothetical thoughts about how it would be neat if this happened instead or if you could do that. I wrote down a few general game ideas, though they just sat in a journal since I had no idea how to actually create one. I should probably look for that journal someday…
Which video-game series would you have most liked to work on?
I would have loved to have worked on The Legend of Zelda for their 2D games, hence my fan game project I worked on last year. The exploration, adventure, and discovery that are at the core of Zelda games are what I hope to achieve in some of my future projects.
What is your philosophy towards your work?
Iteration is always better than perfection; it's better to put forth a minimum viable product and then refine and pivot than it is to continue to strive towards the absolute best first release before putting it out there. Iteration allows you to get feedback and build momentum much sooner and help you take more informed next steps, overall making the end product better.
I use this philosophy with my work for Channel Surfing+ in which every time I finish my development session I aim to share my current progress in our team's Discord channel with pictures or videos of what I made, regardless of how messy the code is or how rough the edges may be. This has been great because when I sit down again to development, I can integrate my team's feedback into my work and then ship a better feature than I originally created on my own.