Games For Love Events
Join us to game, give, and connect at Games For Love events! Explore upcoming game jams, virtual volunteer opportunities, Esports tournaments, in-person meetups, career workshops, livestreams, and more – all benefiting kids in hospitals and around the world. However you take part, we are thrilled to have you involved in the community.

Campathon 2023
Play Games, Help Kids, Go To Camp.
This July, tune in to watch our featured streamers go head-to-head in a multi-day stream battle, competing in teams (Red & Blue) to raise donations for charity! Donate Now & View Team Totals
All proceeds support Games For Love, a nonprofit that eases suffering, saves lives, and creates sustainable futures for children.
Your Guide To Campathon
🚩Pick Your Team
Show your support for your Team Red or Team Blue by making a donation to Games For Love! The team raising the most money to help kids at Games For Love will be our Campathon Champion. Gear up with a limited-edition Red or Blue Campathon Jersey to boost the donation totals of your team!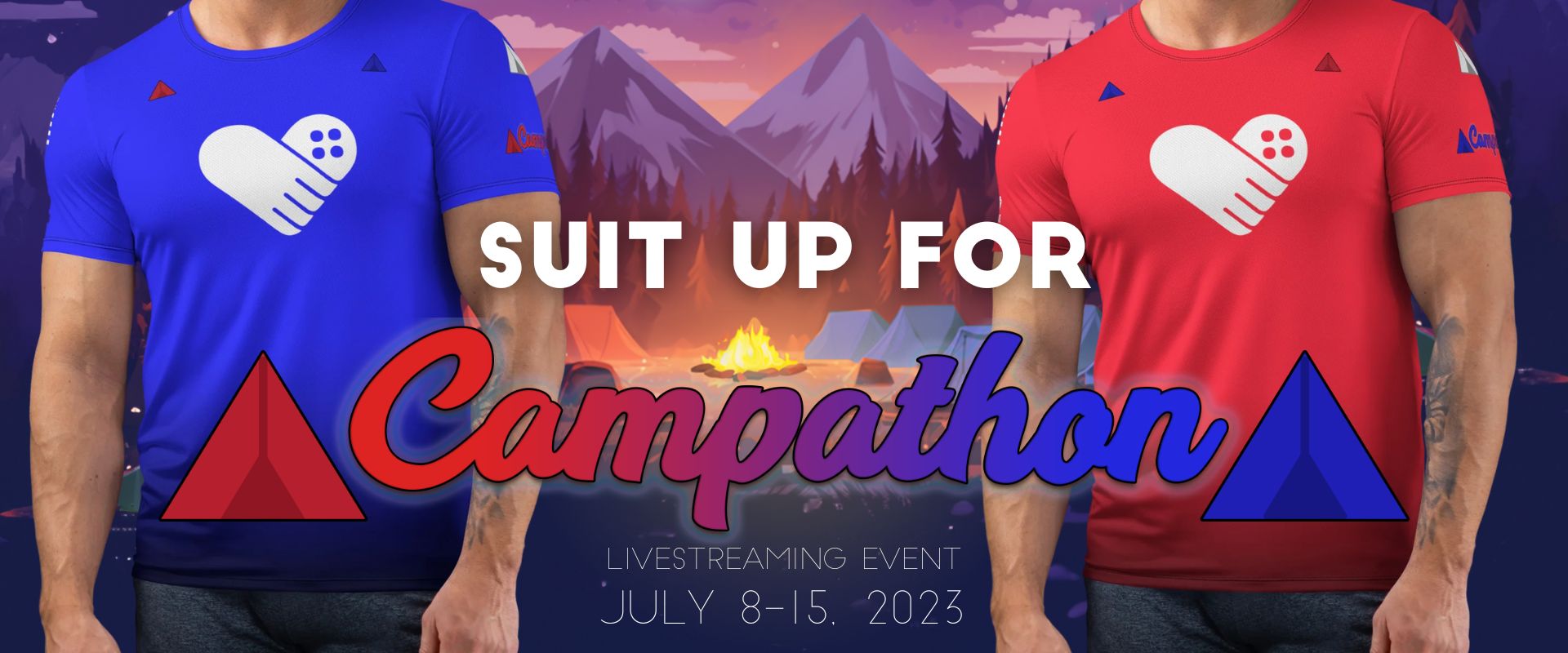 🚩Enjoy The Action
Tune in to the channels below to watch streamers compete throughout the week. See our full list of creators, track team donation totals, and make your gift HERE.

Featured Creators
Learn more about our featured creators in this article.
Are you a streamer interested in joining Campathon as a featured creator? Register now.
🚩Make Your Mark
We'll need your support to make Campathon a success! Help your team win the games with a donation to Games For Love. Every dollar you donate will support kids in hospitals around the world through play therapy and medical treatment.
Related Events
A Note to Viewers: Charity livestreams and fundraising events organized in support of Games For Love (GFL) are hosted by independent creators who generously volunteer their time and efforts to raise funds for our cause. While GFL takes reasonable measures to ensure that livestreams align with our mission and values, we cannot guarantee the accuracy or appropriateness of external content. The opinions, statements, and actions expressed by the creators are their own and do not reflect the views or values of Games For Love. Viewers are encouraged to use their discretion and report any content that may violate community guidelines or terms of service of the platform.