Printful is teaming up with nonprofit Games For Love for merch and gear…
Printful + Games for Love Join Forces to Make a Positive Impact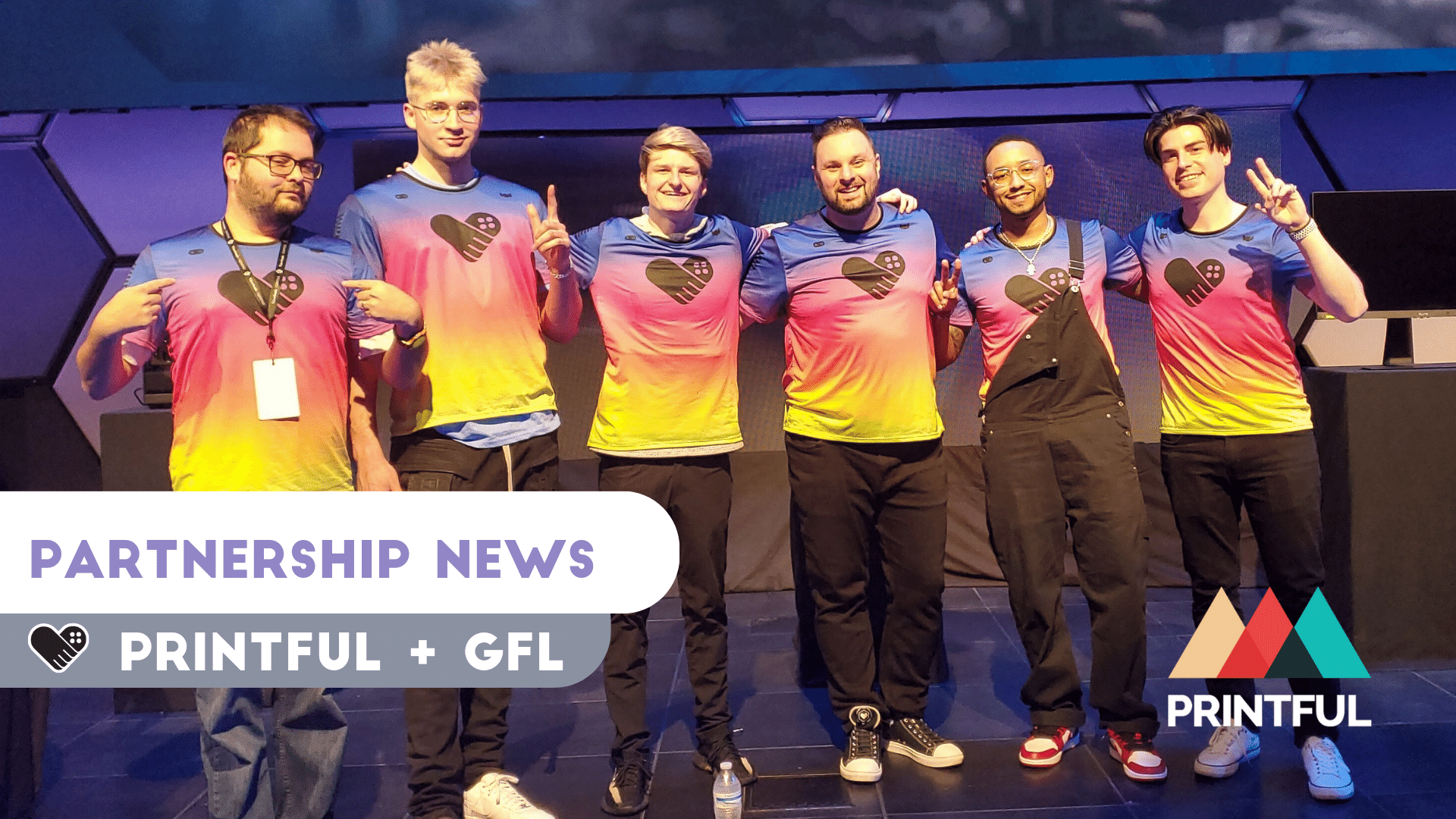 Printful will now provide essential support to Games for Love's mission by offering customized merchandise and apparel solutions, enabling the nonprofit to raise funds more effectively for their cause.
See below for October 2023 GFL Store discount!
Lynnwood, WA October 1, 2023 — Games for Love is a nonprofit organization dedicated to harnessing the magic of video games for positive social impact. Founded with a mission to improve the lives of children facing adversity through the healing power of gaming, Games for Love has been at the forefront of combining the passion of gamers with the spirit of charity. By leveraging the immersive world of video games, they strive to create moments of joy and relief for young patients, children with disabilities, and those in challenging circumstances. The current goal is to reach 10 million children in the span of 5 years.
Through their initiatives and partnerships, Games for Love is making a significant difference in the lives of countless individuals, demonstrating that games can be a force for compassion and change in the world.
The most recent company to join GFL's mission is Printful, a leading print-on-demand and dropshipping company.
This partnership will allow Games For Love supporters to create unique, branded merchandise with the help of Printful's expertise in custom printing and e-commerce. These products will not only help raise awareness of the organization but also generate vital funds to continue their charitable work.
Printful's CEO Alex Saltonstall expressed enthusiasm for the partnership, saying:
"We are honored to collaborate with Games for Love in their admirable mission of bringing joy and comfort to children who need it most. Printful is excited to contribute our resources and expertise to help the charity make an even greater impact."
Games for Love's Founder Nathan Blair added:
"This partnership is a significant milestone for us. With Printful's support, we can expand our reach and further our mission of using the power of video games to bring smiles to the faces of children facing difficult circumstances. Together, we can create a brighter future for these young heroes."
Key benefits of Printful and Games For Love's partnership include:
Customized Merchandise: Printful will offer a wide range of customized merchandise, including apparel, accessories, and promotional items, designed to promote Gamesforlove.org's mission and engage their supporters.

Fundraising Opportunities: The sale of merchandise through the Printful e-commerce platform will generate essential funds to support Games for Love's charitable initiatives.

Awareness Building: Branded merchandise will help raise awareness about Games for Love and its work, inspiring more individuals and organizations to join the cause.

Scalability: Printful's scalable printing and dropshipping services will ensure a seamless experience, allowing Games for Love to focus on its core mission.
The partnership between Printful and Games for Love promises to make a meaningful difference in the lives of children who rely on the support and compassion of others.
Together, they look forward to creating a brighter future through the power of gaming and customized merchandise.
Printful enables innovators to build brands, fans, and businesses of all sizes with a combination of technology, services, and an on-demand supply chain designed to make ecommerce easy. The company fulfills custom clothing, accessories, and home & living items for online businesses. It helps brands build and scale their merchandise business fast and without inventory risks. Since its founding in 2013, Printful has been trusted to deliver 60M+ items and has built a global network of in-house fulfillment centers and strategic partners.
Special Discount
To celebrate this new partnership donors who go to the Games For Love store and use the discount code PRINTFUL will receive an extra 10% off their order! https://gamesforlove.org/store/
Shop the GFL Store