1UP LifeBridge Helps Joy Fight Cancer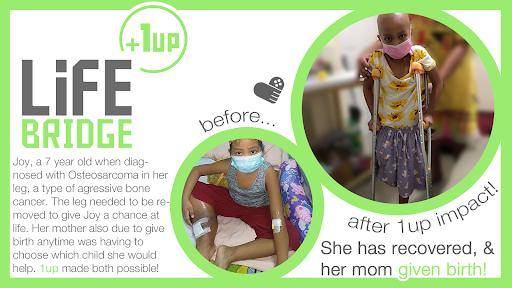 Joy is a 7-year-old girl who, in October 2020, was diagnosed in her leg with Osteosarcoma, an aggressive type of bone cancer. Her best shot at recovery was to undergo chemotherapy to prevent cancer from spreading. The local city government referred her to Games For Love, specifically our 1UP LifeBridge program in the Philippines.
Unfortunately, after two months of chemotherapy sessions, her doctor decided to amputate her leg. Joy and her parents experienced trauma around her losing a limb, but our team gave them all the support and help possible. They were so grateful for this unexpected help.
Joy continued with the chemotherapy sessions for eight more months. Despite the odds of the cancer spreading quickly, she was fighting to survive. Her critical condition required the emotional support of her parents and her father had to leave her job as a fisherman to move to the city with her daughter. This decision left them with no income. Joy's mom, a community health worker, was 9-months pregnant at the time, so that she couldn't travel.
Joy missed her mom deeply. One day, she asked Games For Love for a cellphone. Initially, we thought that she wanted to be distracted by playing games, but Joy used the phone to stay in touch with her mom. We got her a phone!
In June 2021, we received the great news that Joy was finally cancer-free. She was going home with her parents to meet her new baby brother. Her family sent their sincere gratitude to Games For Love. Her mother said: "Maraming maraming Salamat po sa tulong niyo. Kung Hindi po namin kayo nakilala, Hindi po namin alam Kung nasaan kami ngayon". (Thank you so much for all your help. If we hadn't known you, we don't know where we would be now.)
Today, Joy is back at school through online classes. She is a bright student and fast learner. She goes to regular checkups to make sure the cancer doesn't come back. Despite her condition, she loves to play and socialize. She inspires us all!